Save Time & Money By Using
The Kontrol Kube TopSider
For Dust Control
Brochure
Choosing a Kontrol Kube
Height (On Wheelbase)

10'(120")

Width X Length

30" X 60"

Frame Construction

Solid Aluminum

Beveled Base (Roll Over)

No

Enclosure Material

Nylon Reinforced Vinyl

Dust Control Application

Yes

Patient Isolation

No

Increased Surge Capacity

No

Multi-unit Connetions

No

Detachable Flanges

No

Fire Rated

Yes

 
Aluminum Frame
 
Solid Locking Wheel Base
 
Enclosure
The Kontrol Kube TopSider can be deployed in just minutes and then quickly moved from one site to the next.
Reduce the expenses involved with building containment during maintenance, repairs or inspections by using the TopSider.
The Kontrol Kube TopSider eliminates the need for most disposable barrier materials and dramatically reduces labor cost for building containment. The TopSider can be set up in just minutes and then moved quickly and easily from site to site without removing tools, ladder and equipment.
Increase Worker productivity
Reduce Labor Costs
Eliminate Expensive Barrier Materials
Improve Patient Outcomes
Simplify ICRA process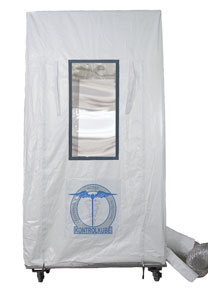 The Fire rated nylon reinforced vinyl enclosure is highly tear resistant and offers great cleanability with a simple design that addresses the core requirements of portable containment.
The Topsider comes with a solid aluminum frame and wheelbase making it the perfect tool for light fixture repair, ceiling tile access, cabling and inspections throughout the facility.
Try the Cost Saving Calculator to see how the Kontrol Kube Topsider can save your facility money.

The Wheelbase
Every containment Unit is equipped with a wheelbase putting the mobility in Mobile Containment Solutions. The Kontrol Kube Wheelbase is a solid reinforced aluminum platform able to support over a quarter of a ton on its four locking, non-skid casters enabling the unit to be moved from point to point with tools, equipment and even a ladder still in the unit.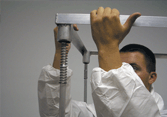 The Frame
The Kontrol Kube's durability is as impressive as its functionality partially thanks to the innovative frame design. Unlike other containment options, the Kontrol Kube is built with an adjustable yet solid aluminum frame.  

The ratcheted height adjustments enable the user to have maximum control while the bolt action pole systems offer a  smooth transition. Each of the poles are equipped with spring loaded locking mechanisms that fit securely into rubber gaskets giving the Kontrol Kube superior flexibility with uneven ceiling surfaces.