The Kontrol Kube Complete Negative Air Machine offers a revolutionary combination of power, efficacy and convenience. Weighing in at 44 lbs this negative air machine delivers a variable speed up to 500 CFM with HEPA filter installed. The Kontrol Kube Complete Negative Air Machine also comes equipped with a DOP Stage 2 First Pass Pre-filter ensure one pass HEPA filtration for air clearance every time!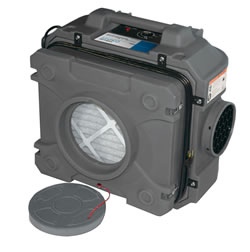 The three stage HEPA filtered Kontrol Kube Complete Negative Air Maching comes equiped with all filters factory installed.
When used with as a part of the Kontrol Kube Containment System, the Complete Negative Air Machine can save a facility time and money.
Try the Cost Saving Calculator to see how the Kontrol Kube System can save your facility money.
The Kontrol Kube Negative Air Machine comes equipped with the following filters installed:
First Stage Pre-Filter - High quality filter restores negative air machines to full efficiency. Replace regularly to ensure maximum performance.
Second Stage DOP Compliance Filter - The addition of the 2nd stage DOP Filter Kit ensures one pass HEPA filtration. This filter allows the Kontrol Kube Negative Air Machine to pass laboratory DOP testing conducted per ANSI standards, achieving an efficiency rating of 99.97% against oily aerosol particles down to 0.3 microns.
HEPA Filter - Kontrol Kube HEPA Filters combine filtration ability with filter capacity. To maximize filter life be sure to change the first stage pre-filter regularly.