Functionality, Durability and Mobility
Mobile Containment Simplified

Advanced
HardPanel
Topsider
NFPA 701
California Fire Marshal
FMVSS 302
CPAI 84
 
Aluminum Frame
 
Solid Locking Wheel Base
 
Enclosure
The things to look for when selecting a containment unit are durability, ease of use and effectiveness.  
With these things in mind the Kontrol Kube containment unit has been designed to exceed expectations on all fronts.
Kontrol Kube Containment Units are built from all industrial components made from durable materials. When purchasing a Kontrol Kube you have the added assurance of knowing you are purchasing a product from the company that started mobile containment over 25 years ago. Time tested, our containment units are hands down the best mixture of durability and flexibility available.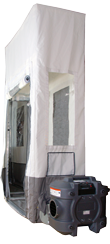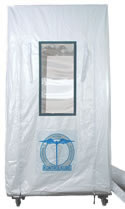 The Enclosure
Kontrol Kube offers two durable enclosure options for the system.

The Advanced Enclosure: Our premium enclosure option, made from extremely durable woven synthetic fabric, offers premium durability and functionality with both the 8' & 10' units equipped with wall flanges for anteroom applications as well connector flanges for multi unit connections. These units are excellent for use during maintenance & inspections or for increased surge capacity and patient See a full list of features on the Advanced Containment Unit Page.

The Topsider Enclosure: This 10' nylon reinforced vinyl enclosure offers all the functionality necessary for standard maintenance applications like cabling, ceiling tile and light fixture repair. The Topsider is also a great tool for use during standard facility inspections.

See a full list of features on the Topsider Containment Page.
The Frame

The Wheelbase

The Kontrol Kube's durability is as impressive as its functionality partially thanks to the innovative frame design. Unlike other containment options, the Kontrol Kube is built with an adjustable yet solid aluminum frame.  

The ratcheted height adjustments enable the user to have maximum control while the bolt action pole systems offer a  smooth transition. Each of the poles are equipped with spring loaded locking mechanisms that fit securely into rubber gaskets giving the Kontrol Kube superior flexibility with uneven ceiling surfaces.

Every containment Unit is equipped with a wheelbase putting the mobility in Mobile Containment Solutions. The Kontrol Kube Wheelbase is a solid reinforced aluminum platform able to support over a quarter of a ton on its four locking, non-skid casters enabling the unit to be moved from point to point with tools, equipment and even a ladder still in the unit.

Advanced

Topsider

Enclosure Material

Woven Synthetic Fabric

Nylon Reinforced Vinyl

Ceiling Access

Yes

Yes

Height

10' or 8'

10'

Doors

3

3

Anteroom Configuration

Yes

No

Connect Multiple Units

Yes

No

Increase Surge Capacity

Yes

No

Material Strength

Extremely Strong

Very Strong