A proven design meets innovation to form the most complete system based solution for dust control or patient isolation.
Complete seemless mobility and functionality are two reasons the Kontrol Kube is the only real solution that comes with a durable and highly versatile containment unit, wheel base,
AirBase
and HEPA Filtered Negative Air Machine making it the most complete system available.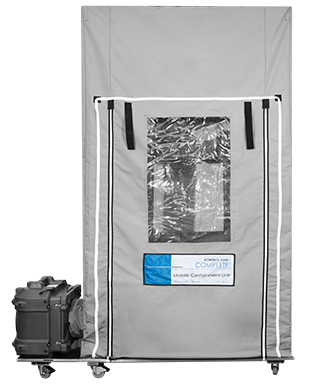 While other containment systems on the market say they offer a system, Kontrol Kube actually means it. The Kontrol Kube System enables a facility to quickly move containment into position for facilities maintenance or emergency patient isolation without the confusion involved with deciding what equipment is compatible. Because the system comes equipped with all necessary components it can be put to work immediately, with very little assembly requiring no tools or special training. The Kontrol Kube System can be easily moved by one person while completely set up, eliminating the need to unhook the negative pressure machine or remove ladders and tools to move.